Harry Potter Studio Tickets – Experience All the Magic of the Harry Potter Films
Besides taking a tour of the most famous Harry Potter locations in London itself, you shouldn't miss the original Harry Potter film studio! In this article, we'll introduce you to the best tickets for the Harry Potter Studios and valuable knowledge for your visit. Brought to you by real Potterheads ;-)
Most popular Harry Potter Studios Tickets
Secure tickets for the Harry Potter Studios now through our ticket partner GetYourGuide and benefit from many advantages:
Best prices guaranteed
Avoid long queues on site
Free cancellation up to 24h in advance
24/7 international customer service
Get tickets sent directly to your mobile phone
Harry Potter Studio Tickets
Standard Ticket - Harry Potter Studio Tour

From £ 104, Duration: 7 hours

Return transfers from Central London
Ticket to Warner Bros Studios

Take a look behind the scenes of the Harry Potter films. This ticket includes a single ticket for the Harry Potter Studio Tour and a bus transfer home from central London. The bus journey takes approximately 90 minutes each way and the tour lasts approximately 4 hours. Be prepared: It will be an amazing Harry Potter experience and is a must for every Harry Potter fan!

Kombi-Ticket

Harry Potter Studio and Oxford Tour

From £ 159, Duration: 11 hours

Round trip transfer by coach
Admission ticket to Warner Bros Studios
Walking tour of Oxford with a knowledgeable guide

This full-day excursion includes the Harry Potter Studio Tour and a visit to the city of Oxford. Book this package and receive transport from London to the Harry Potter Studios, entrance to the Studio Tour, onward travel to Oxford, a guided city tour with entrance to Divinity School. All transfers are by coach. This is a fun day out that is perfect if you are short on time.

Guided tour of the Warner Brothers Studio: The Making of Harry Potter

From £ 213, Duration: 6 hours

Round trip transfer in luxury coach
Admission ticket to Warner Bros Studios
Studio Tour Guide

This package is one of the best Harry Potter Studio Tickets available. A dedicated tour guide will take you behind the scenes of the films. As you walk through the studios, the guide will share secrets and insider knowledge with you. You will also learn all about the amazing sets and incredible effects used in the films. Electronic headphones are provided to ensure you can hear everything the guide says. Guide groups are small, with a maximum of 15 people in a group. Return transport is by train from central London.

The Harry Potter Family Pack

From £ 400, Duration: 8 hours

For 4 people (2x adults, 2x children)
Return transfer from Central London
Ticket to Warner Bros Studios

This package is perfect for a family of four. The Harry Potter Studio Ticket includes bus transfers from central London and admission to the Harry Potter Studio Tour for two adults and two children (up to 15 years). Board the bus in central London and you will be taken to the studio in Leavesden. The exciting tour lasts approximately 4 hours. After the tour, you will be taken back to London by transfer bus.
FAQs Regarding the Warner Bros. Studios and 'The Making of Harry Potter Tour
The Harry Potter Studio Tour is very popular with visitors from all around the world, so it is important to book your tickets in advance. Especially tickets with included transfer rides and group tours are subject to sell out – with an
online ticket
, your participation is guaranteed!
Booking the tickets online is an easy and quick way to make sure you do not miss this fantastic attraction. And what about the pricing of the Harry Potter Studio Tickets? – Booking online in advance means that you have full transparency and be able to book cheap Harry Potter Studio Tickets. You will have immediate confirmation of your booking and it is hassle-free.
There are no hidden costs to the Harry Potter Tour tickets. Everything you need is in one place and your participation is guaranteed. For detailed information always have a look at the dedicated ticket page.
The tour takes around four hours in total. This allows plenty of time to see each area in detail with a little time for refreshments.
Refreshments are not included in the price of the package, but there are a couple of places where you can purchase great food and drink at the Harry Potter Studio Tour. There is a Starbucks in the entrance to the attraction, and the Back Lot Cafe is halfway through the tour. The Back Lot cafe serves breakfast, lunch, dinner, and snacks every day, and this is also where you can get a taste of Butterbeer. Butterbeer is a non-alcoholic beverage that features in the Harry Potter books, and you can buy it as a drink or delicious ice-cream at the studios.
Yes, you are permitted to take your own food and sealed drinks on the tour with you. There is a picnic area available.
Leavesden is in Hertfordshire, just outside London. It is about 20 miles from central London and that is why most of the packages include return travel with the entry tickets. This takes all the stress out of the day.
There is a large gift shop at Harry Potter Studios where you can buy souvenirs. There are keepsakes of every kind available to purchase as mementos of the visit.
Almost all of the attraction is located inside. There are just a few items to see outdoors. This means the tour is not affected by weather conditions and so your visitors can always take place as planned.
Yes, you heard right. There are also
Harry Potter Tours in London
which will take you to iconic spots like Platform 9 ¾, the Leadenhall Market, the Leaky Cauldron, and many others. Real HP fans do both of the tours of course.
The Harry Potter Studios in Leavesden
The filming of all eight Harry Potter films took 10 years in total to make. The studios in Leavesden was the place where all magic happened. Thousands of props, sets, and costumes were made and collected at Leavesden. When the filming came to an end, the majority of the items were put on display for Potter fans to experience. It is breathtaking to see all the hard work and incredible detail that went into producing the Potter movies. You can walk through the sets as if you are taking part in the film, and it is very exciting.
The props that you see are the very items visible on the screen in the films. There is also a fascinating section where you can learn how the animatronics work and how the special effects were added. The attraction is a walk-through tour in low lighting. There is a lot to see at London's Harry Potter Studio Tour.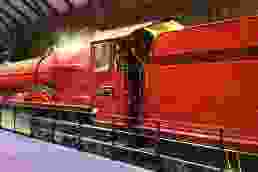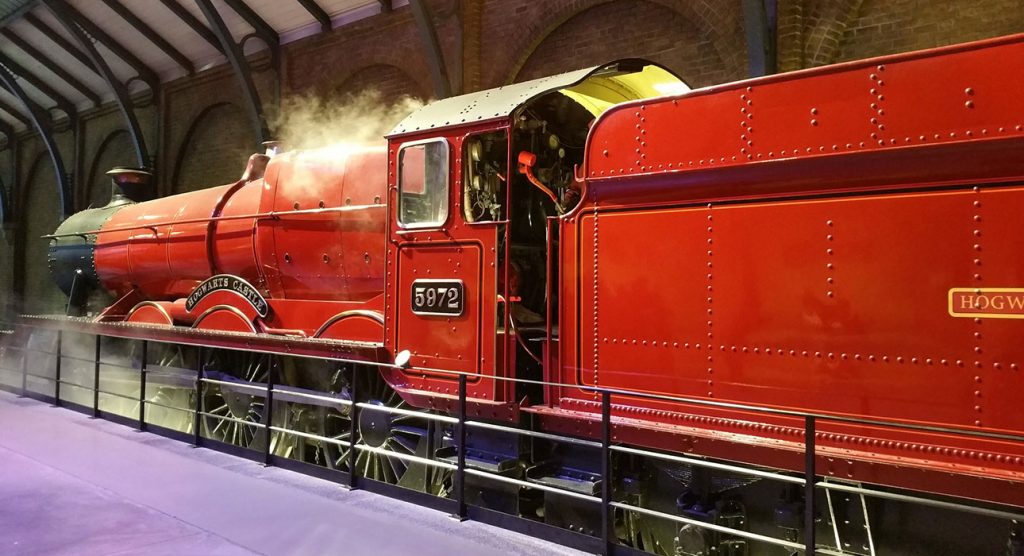 Breathtaking Movie Sets from Another World
Visitors of the movie studios highly appreciate the detailed and tenderly-crafted scenery of the fantasy/fiction movie. Besides the famous Great Hall with its incredible long dinner tables (we mean like really loooooooooooong!) you can walk through the Forbidden Forrest that has been seen in multiple Harry Potter episodes. But one thing is for sure under the most beloved ones: the Hogwarts Express locomotive on the platform 9¾. You probably heard that the Harry Potter scenes on the platform 9¾ have been recorded at London's King's Cross Station. But at Leavesden, they rebuild part of the scenery for 'Harry Potter and the Deathly Hallows' (part 2).
And lastly, the 'Diagon Alley' is opened for studio visitors and has an unbelievable amount of details that impress its visitors. The Diagon Alley's most famous spots are definitely Flourish and Blotts, Mr. Mulpepper's Apothecary, Gringotts Bank, and Ollivanders wand shop. Avada Kedavra!
Dive into Harry Potter's World and Experience All The Special Effects
Besides a magnitude of detailed film sets, you'll also have the chance to really dive into the Harry Potter world. With a broomstick. Yes, that is right. The green screen allows the filmmakers to replace the green color with background imagery that is fully computer-generated.
At the Harry Potter Studio Tour in London, you are able to ride a broomstick in front of the green screen and ultimately fly over London just like in the movies. Other special and visual effects that can be seen on the Harry Potter Tour in London include the invisible cloak, the Chamber of Secrets door, and the Whomping Willow. But wait – how can you actually see an INVISIBLE cloak? That's a mystery that gets unveiled in Leavesden.
The Harry Potter Studios: The Best Rated Tourist Attraction in the World
Leavesden is located in the north of London (Hertfordshire) and is home to the 80-hectare studio complex. The Warner Bros. Studios is under the few places in the United Kingdom that allows big film productions. The Studio Tour for the film Harry Potter opened in 2012 with a grand opening with all the HP' stars. And since it opened, it's the highest-rated tourist attraction in the world again every year (according to TripAdvisor).
Movies are still made at Leavesden as it is a fully working film studio. Other productions that took place in Leavesden are James Bond 007's Goldeneye (1995), Star Wars Episode 1 (1999), The Dark Knight (2008), and 300 (2014).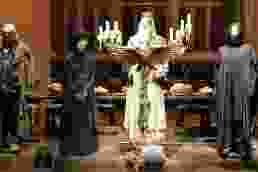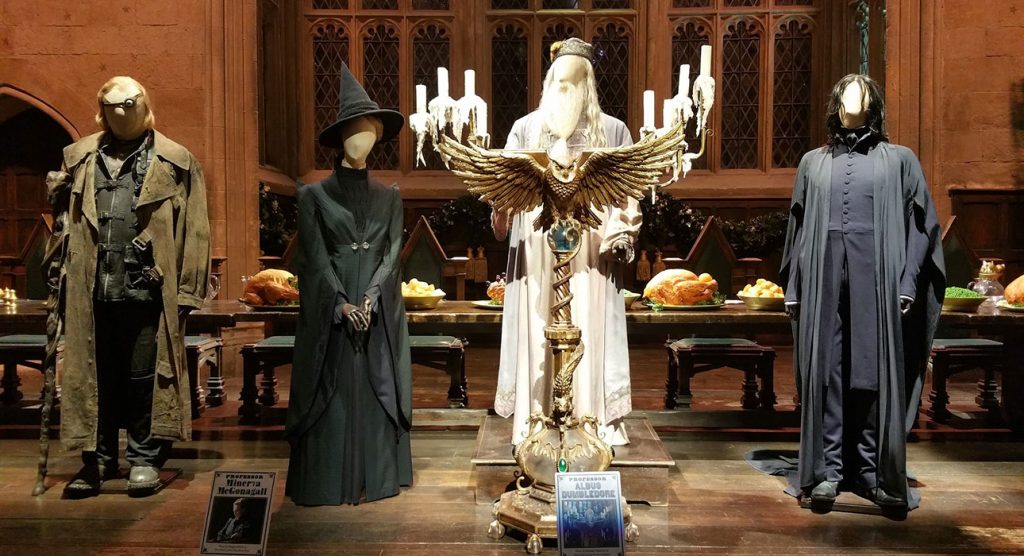 Is the Harry Potter Studio Tour and Its Tickets Worth Its Costs?
Definitely. This article gave you a good overview of what you can expect from the 'Making of Harry Potter' tour in London and which ticket options are around. It's a great opportunity for Harry Potter fans to dive again into the world of Harry and his friends.
But also, for people that don't care too much about Harry Potter (how can't you? But that's another topic) the studio tour is an amazing adventure with all its detailed scenery and information about how special effects were made.
Book your cheap Harry Potter Studio Tickets today and save your guaranteed participation. You won't regret it, like 6,000 other visitors per day.
Opening Hours and Directions
Opening Hours
Monday

8:30 - 20:30

Tuesday

8:30 - 20:30

Wednesday

8:30 - 20:30

Thursday

8:30 - 20:30

Friday

8:30 - 20:30

Saturday

8:30 - 20:30

Sunday

8:30 - 20:30
May vary on public holidays/festivals.
Directions
Arrival by train
The nearest train station is Watford Junction. It runs from London Euston and Birmingham New Street.
Arrival by car
You can park for free in the car park directly in front of the Harry Potter Studios.
Address
Studio Tour Dr, Leavesden, Watford WD25 7LR, United Kingdom
Website
www.wbstudiotour.co.uk
More Attractions in London