Paris Tickets
Discover the most beautiful attractions & sights in Paris with best price guarantee

Our Recommendations
Discover the best tips for Paris with our carefully selected choices, offering unique experiences beyond the ordinary.
Best Prices Guaranteed
Free Cancellation Up to 24h in Advance
Book now, pay later
Attractions and Sights in Paris
Eiffel Tower Tickets: Ascend to New Heights in Paris
Secure your ticket to iconic views with Eiffel Tower tickets, unveiling Paris from a spectacular perspective.
Hop-On Hop-Off Bus Tours in Paris
Uncover the charms of Paris with flexible sightseeing on Hop-On Hop-Off bus tours, making every stop a memorable adventure.
Boat Trips on the Seine
Experience Paris' beauty from the water with captivating boat trips, creating unforgettable journeys along the Seine.
Paris City Tours for every Explorer
Delve into the heart of Paris with guided city tours, crafted to showcase the essence of the city of lights.
Parisian Entertainment: Cabarets & Shows in the City of Lights
Immerse yourself in the glamour of Paris with enchanting cabarets & shows, adding a touch of extravagance to your Parisian nights.
The Best Museums in Paris
Embark on a journey of art and history with a tour of Paris' finest museums, unveiling the richness of its cultural heritage.
Savoring Paris: Culinary Highlights Not to Miss
Indulge in Paris' gastronomic delights as you explore culinary hotspots, unveiling flavors that define the city's culinary identity.
Paris Beyond the Ordinary: Insider Tips Off the Beaten Path
Unearth hidden charms with our insider tips, offering unique experiences beyond the Parisian mainstream.
Parisian Thrills: Exploring Theme Parks in the City
Embark on exciting adventures with Paris' theme parks, creating unforgettable memories for all ages.
Free things to do in Paris
Do you want to explore Paris without spending a lot of money? Then we have something for you! There are so many great things to do in Paris that cost you nothing, which leaves you more money for irresistible food or amazing Paris souvenirs:
Visit the Notre Dame de Paris Cathedral – one of the most famous landmarks in Paris. You only need a paid ticket if you want to visit the towers.
Stroll through the artists' quarter of Montmartre– jam-packed with unique boutiques, small cafés, and fancy restaurants.
Once you get to the artists' quarter, we recommend visiting the beautiful Sacré-Cœur church.
There are also plenty of pay-what-you-can city tours in Paris at freetour.com. Once you get to the end of the tour you can pay as much as you'd like.
The famous Arc de Triomphe monument can be visited free of charge from the outside. You only need a paid ticket if you want to go to the viewing platform – but it's absolutely worth visiting the building, even just to see the outside!
There are several museums in Paris with free admission: among them the Musée d'Art Moderne de la Ville; Petit Palais; Musée d'Ennery.
Additionally, if you're going to be walking around all day, there are several water fountains in Paris – many even have sparkling water. So just bring your empty bottle and stay hydrated.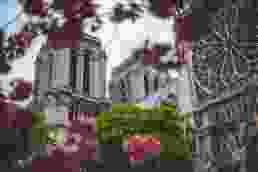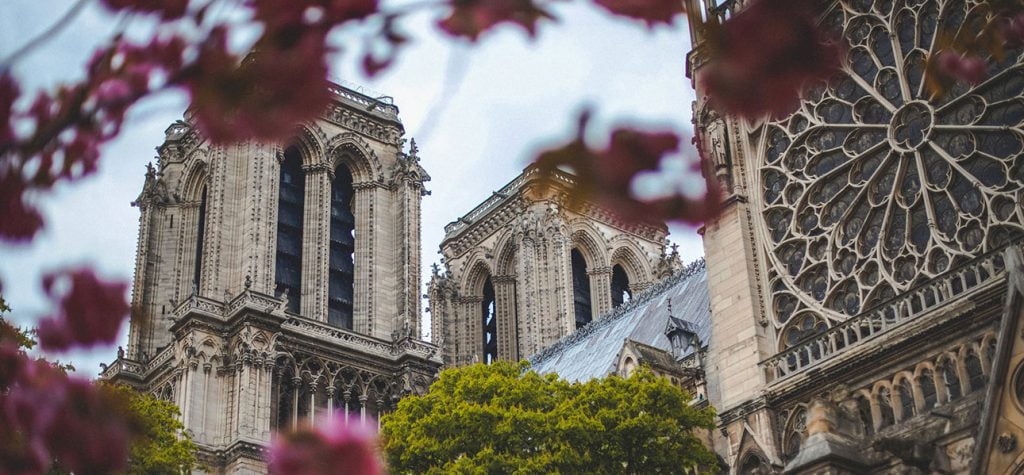 What you should know for your stay in Paris
Bienvenue à Paris! These are the words you should probably try to understand when you travel to Paris. Many French people prefer to speak their mother tongue and are reluctant to switch to English. But don't worry – many of the classic sights do cater to English as well.
To make sure you are well prepared, here is some information worth knowing about Paris (also known as the "city of love"). Besides lovebirds, the city is also suitable for history and culture lovers, as well as fans of good food. Around 16 million tourists come to Paris every year. This makes Paris one of the most visited cities in the world after London.
Paris divided the river Seine into two parts – the right and left banks. Or also called Rive Droite and Rive Gauche. With over 2 million inhabitants, Paris is the fourth largest city in the EU. But with an urban area of 105 square kilometers, Paris is also the most densely populated major city in Europe.
Entertaining facts about Paris
If you ever visit the city of love, while it can be great to know the insider tips, there are also loads of general trivia that are fun to discover. Don't worry– we have collected some useless (but fun!) facts about Paris for you. Perfect to impress your better half over a coffee.
On a small island in the Seine is an 11.5-meter copy of the American Statue of Liberty.
Hard to believe: Until 2012, it was forbidden for women to wear trousers in Paris! This is due to an old law that was passed in 1800.
To keep the parquet flooring in the Louvre Museum shiny, cleaners have to use about 2,500 liters of wax.
For years, the Pont Des Arts pedestrian bridge was decorated with love locks by couples as a sign of fidelity. In 2014, the railing collapsed under the weight of several tonnes.
With around half a million trees, Paris is the greenest city in France. 300,000 of them are in the Bois de Vincennes and the Bois de Boulogne Park. The perfect place for a walk or a Segway tour!
The 2.3 square kilometer Rungis market is the largest wholesale food market in the world. For all food lovers, there are also numerous culinary tours of Paris.
Beneath the streets of Paris are approximately 320 kilometers of catacombs. Discover the realm of the dead on a guided tour – definitely worth seeing!
Printing Eiffel Tower tickets requires approximately 2 tonnes of paper every year. Fortunately, our ticket partner GetYourGuide delivers a paperless ticket directly to your smartphone – Mother Earth says thank you!
Every 7 years, The Eiffel Tower's steel frame is painted. About 60 tonnes of paint are needed to coat the whole monument.
Paris has around 8,000 cafés with beautiful terraces. Perfect for a delicious breakfast with croissants and café (the proper french word for coffee!).
Place de la Concorde is home to the world's largest sundial. Just look down at the Roman numerals instead of up at the obélisques.