Tickets for Disneyland Paris
Let your childhood dreams come to life at Disneyland Paris, a kingdom of magic in the heart of France! Whether you'd like to escape adult life for a couple of days, or you have little ones yearning to meet their favorite Disney stars, look no further for Disneyland tickets at the best possible prices. We'll also make sure your day is as special as you are with valuable insider tips, fun facts, and much more!
The most popular Disneyland Paris tickets
Secure tickets for Disneyland Paris now through our ticket partner GetYourGuide and benefit from many advantages:
Best prices guaranteed
Avoid long queues on site
Free cancellation up to 24h in advance
24/7 international customer service
Get tickets sent directly to your mobile phone
Comparing Disneyland Paris Tickets
Hoping to plan an otherwordly trip? Your wish is our command! Below, we've compared all of the Disneyland Paris passes for 2021 to help you find the perfect option for you.
Let your adventures in Paris begin, and explore the Disneyland tickets on offer!
Unsere Empfehlung

Disneyland Paris: Day Ticket

Admission to Disneyland Paris (Disneyland Park and/or Walt Disney Studios Park)
Disneyland Paris Standard FASTPASS

To us, soaking up the beauty of Disneyland Paris is the perfect day trip! Whether you're planning a romantic getaway or family holiday, Disneyland Paris promises something special for everyone. With this ticket, you can choose to visit either Disneyland Park or Walt Disney Studios Park – but why not immerse yourself in both? This way, you can experience the incredible attractions at Disneyland Park, or peek behind the scenes of your favourite films at Walt Disney Studios Park.

Say goodbye to long queues with the FASTPASS, the golden ticket to shorter wait times!

Disneyland Paris: Multiday Tickets

2, 3 or 4-day tickets
Admission to Disneyland Park
Admission to Walt Disney Studios Park
Disneyland® Paris Standard FASTPASS (at both parks)

If one day at Disneyland Paris just isn't enough, we've got the ticket for you! Spend 2, 3, or 4 days exploring the attractions and sights on offer, and immerse yourself fully in the paradise of Disneyland Paris. This ticket offers admission to both Disneyland Park and Walt Disney Studios Park, so you can explore to your heart's content. Meet your favourite Disney characters, marvel at incredible shows, and experience the splendour of Disneyland Park's five themed areas! With a multi-day ticket, we promise you'll fall even more in love with Disney.

Disneyland Paris: day ticket incl. transfer from Paris

From 139 €, Duration: 1 Day

Admission to Disneyland Paris (Disneyland Park and / or Walt Disney Studios Park)
Transfer: Paris - Disneyland - Paris

A holiday to Paris needs three ingredients: fresh croissants, hot coffee, and a trip to Disneyland! We may not have the coffee and pastries, but we do have the ticket for a magical day trip. You won't even need to worry about transport, as our comfortable express buses will shuttle you between Paris and Disneyland. All you need to do is create the memory of a lifetime! This ticket also includes admission to Disneyland Park and/or Walt Disney Studios, so don't forget to pack your camera.

Disneyland Paris: Flexible day ticket

Admission to Disneyland Paris (Disneyland Park and / or Walt Disney Studios Park)
Disneyland Paris Standard FASTPASS
Validity: 365 days

Maybe you want to visit Disneyland Paris, but you're not sure when. Or, perhaps you'd like the flexibility to visit spontaneously. Either way, we've got the perfect ticket for you! With the flexible day ticket, you'll be able to visit Disneyland Paris whenever you like. The ticket also includes admission to both Disneyland Park and Walt Disney Studios Park, meaning you'll be able to experience the full beauty of this mystical place.

Top tip: Why not surprise the Disney fan in your life with a flexible day ticket? We promise their face will light up with excitement!
Disneyland Paris FAQ
There are plenty of reasons why you should buy your tickets for Disneyland online! Of course, you can also buy the tickets directly on site, but there you have to expect long waiting times in front of the ticket counters.
When you buy your
Disneyland tickets online
,
you save time in front of the ticket counters
and can use your time in the park. Of course, you can cancel the tickets
up to 24 hours in advance free of charge
if something should come up. Since ticket prices can vary depending on the season and weekend, you have full transparency when booking online. Because when booking,
you can compare different time periods with each other
- so you are guaranteed to find the perfect period for your visit! Convinced? Click here to
book online
.
There are direct flights to Paris from several German airports. From there it is only a stone's throw to Disneyland Paris. Either you use the RER express train (line A) or you book the
Disneyland ticket including transfer from Paris
. An express bus will then take you directly to the park.
Of course, you can also travel by Deutsche Bahn or Flixbus. With the
Europa Special of the Deutsche Bahn
, you can even find a ticket for 29 euros with a little luck.
Disneyland Paris is so big that you can hardly do it in one day. Especially if you want to visit both Disneyland Park and Walt Disney Studios Park, you should plan at least two days. So you can plan one full day for Disneyland Park and one full day for Walt Disney Studios Park.
If you want to visit both parks in one day, we recommend that you start with Walt Disney Studios Park and then switch to Disneyland Park in the afternoon. Since Walt Disney Studios closes earlier, you can make the most of your time in Disneyland® Park and enjoy it until the last minute.
Disneyland Paris consists of a total of two parks: Disneyland Park, with five fairy tale areas, and Walt Disney Studios Park, which consists of four areas. There is also a Disney Village, but no ticket is required for this. Here you can expect some souvenir stores, restaurants, and even a cinema.
Since Disneyland Paris was designed to be open all year round in any weather, it's worth visiting even when it's raining! Many visitors shy away from it in bad weather, so on such days is often less busy.
So you can also despite the rain, have lots of fun at Disneyland. Most of the paths are even planned in such a way that you can get to the individually themed areas even when it's dry. In addition, about 80% of the attractions are covered.
Europapark
leaves Disneyland in Paris behind in numerous rankings and is repeatedly named the world's best amusement park. Above all, the selection of attractions and roller coasters is clearly greater at Europapark.
So those who are looking for a theme park with great roller coasters should choose Europapark.
At Disneyland, we especially liked the shows much better. And the flair and magic that lies over Disneyland alone are definitely worth it! If you want to feel like a child again for a day or more and dive into the fairy tale world, Disneyland is just right! In addition, it is of course especially for children an absolute dream.
What awaits you at Disneyland Paris
Disneyland Paris has all the ingredients to whisk you away on a fairytale journey! It's a place of charm and delight, where you'll have the chance to meet your favourite Disney characters, experience world-famous attractions, and let yourself be captivated by fun-filled shows.
Disneyland Paris consists of three areas: Disneyland Park, Walt Disney Studios Park, and the Disney Village. Here's what you'll discover in each: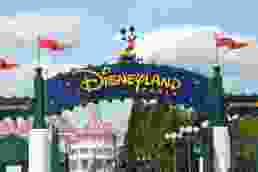 Disneyland Park
Disneyland Park is where dreams come true! At the happiest place on Earth, you'll become friends with your favourite Disney characters and experience fantastical shows. Disneyland Park is the beating heart of Disneyland, with five themed areas spread across 51 hectares – with the enchanting Sleeping Beauty Castle in the middle! The five areas are Main Street USA, Frontierland, Adventureland, Fantasyland, and Discoveryland. Simply complete a lap around the castle, and you'll experience all five! Here, you'll find a range of gripping attractions, including rollercoasters, pirate ships, and playgrounds.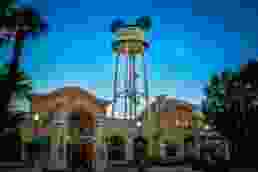 Walt Disney Studios Park
Are you a huge Disney film fan? Do you memorise every song, dance, and detail, or marvel at the special effects? Then Walt Disney Studios Park is the place for you! You'll have the chance to peek behind the scenes of your best-loved films and imagine yourself as a princess or prince! If you love being the centre of attention, you can even step into the spotlight in the park's production area. With a little luck, you may meet some famous stars and starlets! Don't forget to check out the stunt show "Moteurs...Action!" and the Studio Tram Tour "Behind the Magic". They're both excellent!

Disney Village
The Disney Village is the perfect pitstop to enjoy a peaceful moment. Here, you'll find souvenir shops, great restaurants, and a Disney cinema! You don't need an extra ticket to enter the Disney Village, so you can come and go as you wish.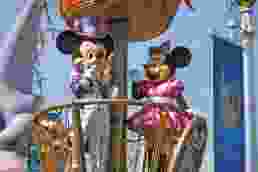 Info about Disneyland Paris
Disneyland Paris attracts about 15 million visitors per year, making it one of Europe's most popular theme parks. Due to its central location, it's also the ideal place to visit from Paris. If you're travelling with children who need an escape from the hustle and bustle of city life, Disneyland is a dream come true – but it's also perfect for adults! At Disneyland Paris, there's something special for every guest. You can truly let your imagination run wild.
In anticipation of your visit, here are some facts that may surprise you!
Fun Facts about Disneyland Paris
Disneyland may not have been built in Paris! Toulon (in the South of France) and Alicante (a city on the Spanish coast) were two other potential locations.
You'll also find the Sleeping Beauty Castle in the American and Asian parks, but the castle in Paris is the most beautiful. This is because castles are an important part of European history and culture.
The opening of the Space Mountain Ride was celebrated by a performance from Elton John.
Disneyland Paris opened in 1992, but the Walt Disney Studios didn't open until 2002.
In 1994, former Presidents George W. Bush and Francois Mitterrand enjoyed lunch at the Cinderella Inn restaurant.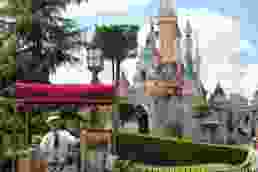 Tips for a successful day at Disneyland Paris
We recommend downloading the Disneyland Paris app to help you get from A to B quickly. With the app, you can track your location at all times and explore the park with ease. You can also see the waiting times for your desired attractions.
Attraction waiting times can be as long as 90 minutes, so we recommend buying your Disneyland Paris tickets online through our partner GetYourGuide. These tickets already include the FASTPASS, which means you won't need to queue for as long. You can purchase FASTPASS tickets for free on-site, but they often sell out quickly.
You'll find plenty of water fountains on-site, where you'll be able to refill your bottles easily.
If your little ones need a break, you can borrow prams for free on-site.
There are many captivating shows to watch at Disneyland Paris, so you don't want to miss out! Once you've decided which shows you'd like to see, you can check timings via the Disneyland Paris app. We particularly recommend "The Forest of Enchantment".
For many guests, the Disney Dreams fireworks display is one of the most spectacular experiences of the visit. To make sure you have a brilliant view of the lasers and fireworks, find the perfect spot well before the show begins!
Opening Hours and Directions
Opening Hours
Monday

9:30 - 21:00

Tuesday

9:30 - 21:00

Wednesday

9:30 - 21:00

Thursday

9:30 - 21:00

Friday

9:30 - 21:00

Saturday

9:30 - 21:00

Sunday

9:30 - 21:00
May vary on public holidays/festivals.
Directions
Arrival by metro
From Paris, take the RER rapid transit line A directly to Disneyland Paris (Disneyland Paris terminus).
Address
Bd de Parc, 77700 Coupvray, France
Website
www.disneylandparis.com
More attractions in Paris