Europa-Park in Rust - Tickets, Info and Insider Tips
Experience one of the most beautiful theme parks in the world: Europa Park in Rust. With over 100 different attractions, performances, and specialty entertainers, we promise you many unforgettable moments for the whole family! Let us help you organise the perfect trip; we will sort you out with low-priced tickets and accommodation, as well as helpful insider tips from Europa Park connoisseurs and much more!
The most popular Europa-Park tickets
Secure tickets for the Europa-Park now through our ticket partner GetYourGuide and benefit from many advantages:
Best prices guaranteed
Avoid long queues on site
Free cancellation up to 24h in advance
24/7 international customer service
Get tickets sent directly to your mobile phone
All tickets at a glance
Europa Park day ticket

From 57,50 €, Duration: 1 day

Full-day ticket to Europa-Park (One day only)
Includes access to all performances and attractions

A whole day of action and fun awaits you at Euro-Park Rust. With over 100 attractions, performances, and specialty entertainers, there is guaranteed to be something for the whole family! Perfect for young and old alike. Immerse yourself in everything from roller coasters (with record speeds!), roaring water rides, thrilling live performances, or even attractions for the little ones. The Europa Park also provides plenty of wonders, with their mind-blowing buildings, parks, and seasonal decorations.

Europa-Park: YULLBE VR Experience Ticket

From 9,90 €, Duration: 10 minutes

Virtual Reality YULLBE experience
Incl. equipment

Do you want to give your Europa-Park visit a special kick? Then we have just the thing for you! With this ticket you gain the ability to explore virtual worlds with Virtual Reality (VR) glasses and a hand tracker. You will find yourself completely immersed in these VR worlds, and you have a wide range of different VR experiences to choose from. Allow yourself to be captivated by the enthralling stories while you master exciting challenges. You will be so taken in by these realistic VR experiences that you will completely forget about the worries of the real world. This is the perfect experience for all of those who want to make their visit to the next level.

Kombi-Ticket

Black Forest Card with Europa Park

from 40,00 Euro, duration: 3 days

Free admission to more than 180 top attractions in the Black Forest
Free admission to Europa-Park (optional)

In addition to Europa-Park, the Black Forest also offers many other great attractions for the whole family! So it's worth combining your visit to Europa park with a few extra days at the Black Forest as well. The SchwarzwaldCard is the perfect solution here for the best experience at the lowest price, because with the SchwarzwaldCard, you get free access to more than 180 attractions in the Black Forest. There is guaranteed to be something for everyone!

Now have we got your attention? You can find out more about the SchwarzwaldCard and its inclusions directly from our booking partner:
What awaits you at Europa-Park
Europa-Park is located in the heart of Europe; in the popular Black Forest region. With over 5.8 million visitors per year, Europa-Park is the most visited theme park in Germany. And not only that…
The amusement park has been named the best amusement park in the world so often, we have lost count of the number of times it's been said. But Europa Park is actually much more than a normal theme park. There are many extra touches on the rides that make Europa-Park unique. For example, the decorations are constantly updated to the season, such as statues made of flowers or pumpkins, so each time you visit the park it seems completely different! And to top it all off, the gigantic shows and various themed areas give Europa-Park an extra special flair that you won't find at your average theme park.
All of Europe united in one place: The thematic areas
As the name suggests, you travel across Europe at Europa-Park and discover the pleasures of 15 different European countries. Europa-Park is divided into 18 elaborately designed themed areas - including 3 fantasy areas. You can even try to guess the country by the smell of the various national dishes that are offered all around.
Europa Park at a glance - interesting facts & figures:
Total area: 950,000m2
18 themed areas: 15 European countries and three fantasy areas
13 roller coasters
Over 100 attractions & shows
45 restaurants and bars
Six 4-star hotels
Open since: 1975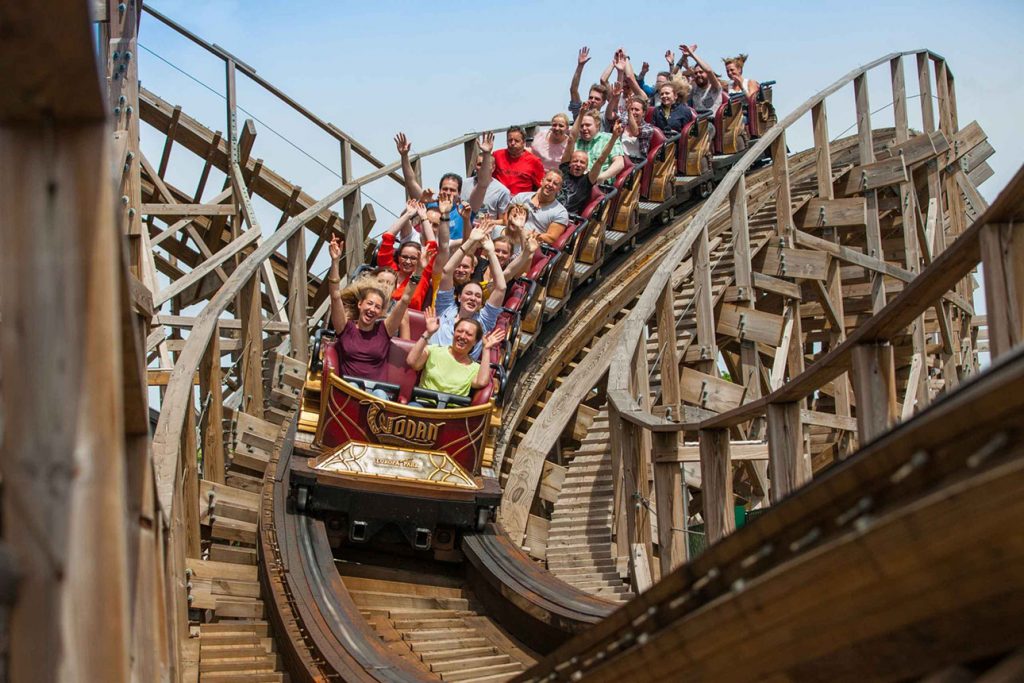 The most beautiful attractions at Europa-Park
With more than 100 attractions, Europa-Park is guaranteed to fulfill every person's wish; regardless of whether you are big or small, young or old. In fact, the Park is so large that it is impossible to see everything in one day. That's why it's so important to think about what you want to see in advance - especially if you are only spending one day at Europa-Park (we recommend at least 2 days). For this reason, we have summarised the most popular attractions for you here. And we can also say from our own experience: these attractions are guaranteed to give you a memorable trip - Cross our hearts! ;-)
Where should we start? We would love to list each of the 100 attractions individually, as there really is so much to see. Each attraction has something magical about it, something that you can feel even while queuing (yes, you heard us right, unfortunately). The long queues are part and parcel of Europa-Park. But we have a trick for that, too (below!). Though even while queueing, the lines to the attractions are sweetened with music, decorations, snack stands, and even other mini-attractions. So you can easily get into the right mood while waiting for the main attraction.
But now, finally, our absolute favorites:
It's not easy to choose one favourite from the 13 roller coasters at Europa Park, as we are absolute roller coaster fanatics. But if we had to recommend one: our favourite is, of course, the Silver Star. The Silver Star is one of the highest steel roller coasters in Europe and, with a top speed of up to 130 km/h, provides a tremendous adrenaline rush. But the best thing about the roller coaster is that the centrifugal forces of up to 4g allow you to experience a feeling of weightlessness for short bursts of time.

Another favorite is the Eurosat - CanCan Coaster. On this roller coaster, you will experience a wild dance through the Parisian night. Even from the very beginning when you enter the dark interior of the large sphere, you will be filled with that electric sense of excitement.

Another highlight is the Blue Fire roller coaster. This magnificent ride will catapult you at 100 km/h in 2.5 seconds right from the very beginning. If you hold on tight, you can even watch the thrill of the experience tingle in your pulse, which is guaranteed to go on a roller coaster here too!

Especially on hot summer days, the water rides at Europa-Park are a great way to cool down. The fjord rafting in the Scandinavia-themed section is particularly fun. The rafting tour will guide you through a raging torrent of waterfalls, gorges, and tunnels. A wild and fun time for the whole family!

The Greek-themed water roller coaster Poseidon (see picture) also gives you the chance to cool off during two of its breath-taking descents. This roller coaster is renowned amongst visitors for the level of detail and immersion into Poseidon's world that it delivers.

For families or even for those who find the roller coasters too wild, there are plenty of other great attractions. Pirates in Batavia is hugely popular with visitors. You can glide in a boat through the exotic port city of 1987-Batavia.

With the Windjammer boat swing, you will shoot up into the air at a lofty height - and take in the dreamlike location near the fjord rafting.

But for us, the Voletarium made the biggest impression. After all, who hasn't dreamt of flying? In the Voletarium your dream comes true and you fly across Europe. State-of-the-art technology makes it possible! We guarantee that it feels so realistic, that you'll be tempted to stretch your legs out to touch the mountains as you fly overhead ;-)

Europa Park also offers many great attractions for children (as well as any adults who wish they could be kids again). Whirling coffee cups "Koffiekopjes" is a particular highlight. The faster you spin, the wilder the coffee cups whirl around. Beware of vertigo!

At Lada Autodrom, the little ones can look forward to a classic car chase; they will feel like the world's fastest driver!

And finally, the Wiener Wellenflieger chain carousel in the shape of a mushroom is always buckets of fun. We recommended you grab one of the double-seats; they make the experience twice as good!

Performances and other entertainment

Europa-Park is known for the wide array of impressive professional performances which are guaranteed to thrill you! The entertainment changes regularly and often adapt to the season/time of year. We fell in love with the show "Retorno dos Piratas". In this show, you get to watch acrobats performing awe-inspiring jumps, somersaults, and screws from a tremendous height - and then you get to watch them land straight into the water!

As you stroll through Europa Park, you'll keep seeing the two Euro mice in a variety of costumes. Don't forget to take a souvenir photo with these mascots!

Make sure you don't miss a single show: we recommend you download the Europa Park App. The app provides the times and locations for all shows so you never miss out on your favourites.
Insider tips for Europa-Park
In order to make your stay at Europa-Park perfect, we have put together some important insider tips for you. Now you can become a Europa-Park pro yourself!
As mentioned, you have to expect long queues in front of every attraction at Europa-Park. Especially during the peak season in summer, the waiting time can be 1-2 hours long. But if you download the Europa-Park app, then you can keep an eye on the waiting times in real-time. This way you can choose your next attraction in a more sensible, time-saving way.
During the Halloween period, Europa-Park transforms into a very spooky park. Decorated with great pumpkin arrangements and Halloween shows, a wonderful atmosphere is brought to life! Another advantage of traveling to Europa-Park during the Halloween period (October-November) is the waiting times, as there are significantly fewer visitors at Europa-Park during this season. an added bonus: the lower temperatures actually make the wait times much more pleasant.
We recommend you arrive early, around the time when Europa Park opens its gates in the morning. At this time, the park is still very empty and you can enjoy the most popular attractions (such as roller coasters or rafting) without needing to line up! It is best to think about which attractions you would like to visit before you arrive. To speed up access and avoid the long queues at the entrance, we recommend booking your ticket online in advance.
If you want to be in the park before all the other visitors, you should stay in Europa-Park's own theme hotels. Hotel guests have access to the park 30 minutes before the official admission.
An absolute highlight at Europa-Park is the Voletarium. An unforgettable experience for the whole family that is guaranteed to stay in your mind for a long time. The attractions are very popular and you have to reserve a time slot in advance on-site. So we recommend you make your reservation first thing in the morning because, by noon, all slots are usually already booked up for the entire day.
Europa-Park even offers an unforgettable restaurant experience for the big appetites: the FoodLoop. You can place your order via your table's own touchscreen. The food is then transported directly to your table via a cool rail system. There are even two loops along the way. We guarantee you: the experience of going to a restaurant has never been so amazing!
Accommodation near Europa-Park
If you would like to spend several days at Europa-Park, you have the option of staying in Europa-Park's own theme hotels. However, as these are often a bit on the costly side, we recommend booking a hotel or holiday flat near Europa-Park. Only a few minutes' walk away, you will find numerous accommodations at fair prices.
You can find a great selection of nearby accommodation directly at our booking partner booking.com.
Opening Hours and Directions
Opening Hours
Monday

9:00 - 18:00

Tuesday

9:00 - 18:00

Wednesday

9:00 - 18:00

Thursday

9:00 - 18:00

Friday

9:00 - 18:00

Saturday

9:00 - 18:00

Sunday

9:00 - 18:00
May vary on public holidays/festivals.
Directions
Arrival by public transport
The nearest train station is Ringsheim. From there, a Europa-Park shuttle bus runs around the clock and takes you directly to the main entrance.
Approach by car
There are several parking spaces directly in front of Europa Park. However, plan on a lot of waiting time here.
Address
Europa-Park-Straße 2, 77977 Rust
Website
www.europapark.de