The Best Crazy Horse Cabaret Tickets
Let yourself be seduced by cabaret at the Crazy Horse in Paris. This sensual show promises an intoxicating mix of dance, art, and music. Lose yourself in dazzling light displays, be captivated by the Crazy Girls, and uncover the magic of this must-see cabaret. Ready to fall in lust with this fabulous celebration of femininity? Discover the best Crazy Horse Cabaret tickets and all the information you need to plan your visit below!
The Most Popular Crazy Horse Tickets
The first step to planning an unforgettable show at the Crazy Horse Cabaret in Paris is finding the perfect tickets. When you buy your tickets through our trusted partner GetYourGuide, you'll enjoy:
The best Crazy Horse cabaret tickets and prices
Shorter queues on-site
Free cancellation up to 24 hours before the show begins
International 24/7 customer service
Tickets sent to your smartphone
Crazy Horse Cabaret Tickets & Packages
Cathedrals, coffee, croissants…Paris is full of beauty and wonder. To soak up the culture in all its forms, be sure to visit the Crazy Horse cabaret. We've listed the best tickets below to help you plan an experience that you'll never forget.
Crazy Horse Cabaret Show

From 115 €, Duration: 1.5 hours

Admission to the Crazy Horse Cabaret

Let yourself be captivated by wondrous light displays, projections, and choreography at the Crazy Horse cabaret. This ticket option admits you to "Totally Crazy!" – a one-of-a-kind show that will spark and distort your senses. Watch in awe as the Crazy Girls melt into the music and lights, a spectacle that must be seen to be believed. From the moment the show begins, it'll be impossible to avert your gaze – but trust us, you won't want to. This celebration of femininity and sensuality is worlds away from the everyday. What better way to experience Paris than by attending this iconic cabaret?

Crazy Horse Cabaret & Dinner

From 200 €, Duration: 3 hours

Admission to the Crazy Horse Cabaret
Dinner at GINGER Restaurant (before or after the show)
Incl. Champagner, water & coffee, and wine

What could be better than food and theatre? With these Crazy Horse cabaret tickets, you'll get the best of both. Your experience will begin at GINGER Restaurant, where vibrant South East Asian flavors warm up your senses. Next, you'll be seduced by the sizzling choreography and light displays of Crazy Horse's "Totally Crazy!" cabaret. Let yourself be absorbed by the absurdity while you toast to Paris with half a bottle of Cuvée Crazy, the theatre's own brand of Champagne.

Please note: If you would prefer to dine after the show, that's also an option! Simply choose a ticket that suits your preferences.
What Awaits You at the Crazy Horse Paris
The Crazy Horse Paris – known as "Le Crazy Horse Saloon" or "Le Crazy Horse de Paris" – is one of the most awe-inspiring attractions in France's capital city. It's been delighting audiences and breaking boundaries since 1951 when Alain Bernardin first opened the theatre's doors. Since then, the theatre has continued to change hand in hand with Parisian culture.
Today, Crazy Horse presents "Totally Crazy!", a 90-minute show that combines sensuality with artistic flair and skill. It celebrates seven decades of cabaret at this iconic theatre and is a must-watch for all visitors to Paris!
Over the years, Crazy Horse has shone a light on some incredible people and talent. Dita Von Teese – often described as the Queen of Burlesque – took to the stage for the first time in 2006. Pamela Anderson then performed in 2008, Conchita Wurst in 2014, and Viktoria Modesta in 2019.
Everything is fluid at Crazy Horse Paris. The management has changed, major fashion designers like Louboutin have been guest creators, and choreographers have introduced new routines. The Crazy Girls have even traveled around the globe, with an 11-year residency in Las Vegas and a 2010 World Tour.
Have you bought your Crazy Horse Cabaret tickets yet? Don't miss out!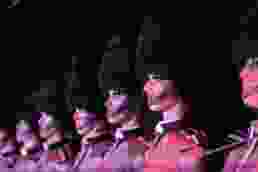 Planning Your Visit to Crazy Horse in Paris
Now that you've bought your Crazy Horse cabaret tickets, it's time to prepare for the experience of a lifetime! Below, we've listed some of the key information that you'll need to know.
The dress code at Crazy Horse Paris is smart. This means no trainers, flip-flops, shorts, or sportswear. It isn't mandatory, but evening wear is welcome. Feel free to wear a suit and tie or a dress.
Nudity and partial nudity are all part of the cabarets at Crazy Horse Paris. If you think you might be uncomfortable, it's a good idea to watch their trailer before buying tickets. This will give you a better understanding of the nature of the show, including the costumes and dance routines.
This is also something that you might want to bear in mind if you're traveling with kids. However, children from age 10 are allowed to attend the show (when accompanied by parents).
Taking photos or videos during the show is not allowed.
Opening Hours and Directions
Opening Hours
Monday

19:00 - 1:00

Tuesday

19:00 - 1:00

Wednesday

19:00 - 1:00

Thursday

19:00 - 1:00

Friday

19:00 - 1:00

Saturday

18:30 - 2:00

Sunday

19:00 - 1:00
May vary on public holidays/festivals.
Directions
How to get there by metro
The theatre can be reached by two nearby metro stations: Alma-Marceau and George V. From each station, it's just a few minutes to walk via Avenue George V.
Address
11 Rue de la Tremoille, 75008.
Website
www.lecrazyhorseparis.com
More attractions in Paris