Westminster Abbey Tickets & Tour Packages
Explore Westminster Abbey, home to many of Britain's key historic moments and a monumental part of London's dramatic skyline. From its Gothic architecture to its history of royal weddings, Westminster Abbey is full of enchantment and awe. Buy your Westminster Abbey tickets today and become part of its story – one that already spans more than 1000 years.
The Best Westminster Abbey Tickets
Secure tickets for Westminster Abbey now through our ticket partner GetYourGuide and benefit from many advantages:
Best prices guaranteed
Avoid long queues on site
Free cancellation up to 24h in advance
24/7 international customer service
Get tickets sent directly to your mobile phone
Most Recommended Westminster Abbey Tickets and Tours
A trip to London can go by in a blur – and not just because of the speedy underground! There's so much to experience and enjoy, including the magnificent Westminster Abbey. We've listed some of the fantastic ticket options below, including combined Westminster Abbey tour packages. Take a look to find the right option for you.
Unsere Empfehlung

Westminster Abbey Tickets

From £ 29, Duration: 2 hours

Admission to Westminster Abbey

Discover one of the most celebrated places of worship in London with this Westminster Abbey ticket option. You can walk around the Abbey at your own pace, allowing you to spend time soaking up the parts you admire most. Maybe you'll gaze at the stained-glass windows and intricate stone carvings. Perhaps you'll be blown away by the Coronation Chair that seated Queen Victoria and Queen Elizabeth II as they were crowned. Whatever your interests, there is a lot to admire with admission to Westminster Abbey!

Westminster Abbey Tour (with Optional Admission to the Palace of Westminster)

From £ 39, Duration: 75 minutes–4 hours

Admission to Westminster Abbey (Guided Tour)
A tour to the Palace of Westminster/Houses of Parliament (if selected)
Admission to the Palace of Westminster/Houses of Parliament (if selected)
An audio guide tour of the Place of Westminster/Houses of Parliament (if selected)

Soak up the history of Westminster Abbey with this popular ticket option, available to personalize to your interests. Take a guided tour of the stunning Westminster Abbey, explore the Palace of Westminster (known as the Houses of Parliament), or do both in one day! There's so much to discover with this ticket option, from the story of London's famous Big Ben to the hustle and bustle of the Houses of Parliament. You'll be at the beating heart of London as you learn about its fascinating history and present-day politics.

Kombi-Ticket

Westminster Abbey Tour & The Houses of Parliament

From £ 110.30, Duration: 225 minutes

Admission to Westminster Abbey (Guided Tour)
Admission to the Houses of Parliament (Guided Tour)
Headphones included

Explore two of the most influential landmarks in London, the Houses of Parliament and Westminster Abbey, with this exciting tour. Whether you're interested in royal romance or pressing politics, this tour will introduce you to approximately 1000 years of British history. With limited group sizes, you'll also have lots of opportunities to ask your tour guide any burning questions. This insightful tour begins at Westminster Abbey and continues to the Houses of Parliament, including a visit to the House of Commons and the House of Lords.

Kombi-Ticket

Sightseeing credits to use across 80+ attractions, including Westminster Abbey
Choose a pass for 1, 2, 3, 6 or 10 days
A digital travel guide with useful information about each sight
A day ticket for a hop-on/hop-off bus tour

Explore many of London's most incredible sights and experiences with the London Pass, a digital pass with credits to use across more than 80 attractions. You can tailor your trip to London to suit your interests, with everything from history museums to sports stadiums to spend your credits on. Maybe you'll gaze across London's skyline from The Shard, wander through the greenhouses of Kew Gardens, or follow the footsteps of royals in Westminster Abbey. With the London Pass, the choice is yours!

Please note: The number of credits you have (and therefore the attractions you can visit) will depend on the pass you choose. You can choose a digital pass for 1, 2, 3, 6, or 10 days with a one-day hop-on/hop-off bus tour around the city.
What Awaits You at Westminster Abbey
Westminster Abbey was founded in 960 AD and is now one of London's most famous attractions. It's been a key part of British history for more than 1000 years, meaning it's a wonderful place to visit when you're in London. It's also beautiful, with stained glass windows, wall paintings, and an amazing Gothic vault to marvel at.
Westminster Abbey has been the coronation church of Britain since 1066, with William the Conqueror, Queen Victoria, and Queen Elizabeth II among the monarchs who have had ceremonies here. The stunning Abbey has also hosted many royal weddings, including the marriage of the Duke and Duchess of Cambridge. You might have watched their celebrations on television, but visiting the Abbey in person is truly magical!
Westminster Abbey also holds celebrations of life. Many influential people are buried or remembered here, including more than 100 writers. Poets' Corner, as this part of the Abbey, is called, remembers Geoffrey Chaucer, William Shakespeare, Charles Dickens, and many others.
Today, the rich history and impressive architecture of Westminster Abbey attract people from across the world. Many people also visit for worship, with services held daily.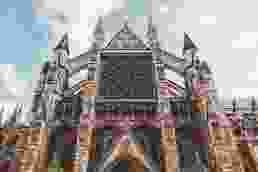 Opening Hours and Directions
Opening Hours
Monday

9:30 - 16:00

Tuesday

9:30 - 16:00

Wednesday

9:30 - 16:00

Thursday

9:30 - 16:00

Friday

9:30 - 16:00

Saturday

9:30 - 16:00

Sunday

9:30 - 16:00
May vary on public holidays/festivals.
Directions
Arrival by underground
"Westminster" tube station with Jubilee, District & Circle Lines
Address
20 Deans Yd, London SW1P 3PA, United Kingdom
Website
www.westminster-abbey.org
More Attractions in London