Snorkelling in Egypt: Tours, Tickets & Info
From its crystal clear water to its colourful coral reefs, Egypt is a true diving and snorkelling haven! On a snorkelling tour in Egypt, which is home to some of the most beautiful diving spots in the world, you'll discover an underwater paradise, ablaze with exotic fish. Whether you dream of swimming with dolphins, exploring the Giftun Islands, or being enchanted by Orange Bay, our tickets and tours promise the snorkelling experience of a lifetime.
The most popular snorkelling tours in Egypt
Buy your tickets for the best snorkeling tours in Egypt through our trusted partner, GetYourGuide, and enjoy:
Best ticket prices guaranteed
Free cancellation up to 24h in advance
International 24/7 customer service
Tickets sent to your smartphone
Snorkeling in Egypt: Which tour is right for you?
A holiday to Egypt isn't complete without experiencing snorkeling – but we recommend booking a tour. Why? Because the most magical diving spots are only accessible by boat! 
Even if you're not the biggest snorkeling fan, you'll certainly be tempted by Egypt's glittering blue sea. Exploring underwater is an adventure you don't want to miss! 
Unsere Empfehlung

Snorkelling, swimming with dolphins & more

From 28,75 €

–25%

, Duration: 9 Hours

Boat trip (where you'll watch dolphins and find the best snorkelling spots)
Water sports activities (ride a banana boat and soft boat)
Incl. snorkelling equipment, drinks, fruit, snacks, and lunch
Incl. transfer from Hurghada

Snorkel in true luxury with our premium tour package. After being picked up from your hotel, you'll enjoy a boat ride to the best snorkelling spots in Egypt. Unforgettable views across the sea will only be made better by leaping dolphins, which you'll even have the chance to swim with! Next, you'll experience the wonder of a large coral reef, teeming with sea creatures and marine life. Why not take part in some of our water activities, such as riding a banana boat? This snorkelling tour promises to leave you in love with Egypt.

Snorkelling & Giftun Islands

From 27,27 €

–20%

, Duration: 8 Hours

Boat trip (to Giftun Island National Park and snorkelling spots)
Incl. snorkelling equipment, drinks, fruit, snacks and lunch
Incl. transfer from Hurghada

This snorkelling tour is a dream come true! Your day will begin with hotel pick-up in Hurghada before you embark upon a boat trip across the famous Red Sea – where dolphins, coral reefs and mesmerising views await. You'll also head to Giftun Island National Park, where a picture-perfect beach (ideal for water activities!) will enchant you. In search of tranquillity? This snorkelling tour won't disappoint! Giftun Island, the Red Sea's hidden jewel, is bound to set your soul alight.

Snorkelling, Giftun Islands & Orange Bay

From 34,11 €

–20%

, Duration: 8 Hours

Boat trip (to Giftun Island National Park, Orange Bay and snorkelling spots)
Incl. snorkelling equipment, drinks, fruit, snacks and lunch
Incl. transfer from Hurghada

Discover the magic of Egypt with an island-hopping snorkelling tour. Perfect for adventure seekers, this boat tour will introduce you to an underwater world like no other! You'll enjoy trips to the Giftun Islands and Orange Bay, where white-sand beaches and turquoise water promise to take your breath away. Why not dive straight into snorkelling or watch the local dolphins leap and dance? If you'd prefer to soak up the sun, there are plenty of hammocks, ocean swings and cosy seats to choose from. This stunning haven in the middle of the Red Sea will take your holiday to the next level.

Kombi-Ticket

Snorkelling, Giftun Islands & Quad Tour

From 63,34 €

–20%

, Duration: 9.5 Hours

Boat trip (to Giftun Island National Park, Orange Bay and snorkelling spots)
Sunrise quad bike tour
Incl. snorkelling equipment, drinks, fruit, snacks and lunch
Incl. transfer from Hurghada

Thrill-seekers, we've got the ultimate tour for you! With this ticket, you'll keep your heart racing with the sunrise quad bike adventure of your dreams. After exploring the coast and mountain ranges by quad bike, you'll jump aboard a boat and head out into the Red Sea. Dolphins will entertain you, and colourful coral reefs will enchant you. Why not drift amongst the corals and discover Egypt's extraordinary marine life with this incredible snorkelling tour? Whether you're holidaying with friends or enjoying a romantic break for two, this is the perfect day trip!
Snorkelling in Egypt: What to expect
Egypt is one of the world's most beautiful snorkelling destinations, often nicknamed the Egyptian Caribbean. You'll love immersing yourself in the Red Sea, which at summer temperatures of 20-30 degrees feels like a warm bath! It's also a true paradise for divers, with turtles, dolphins, rays and many other exotic marine creatures calling the Red Sea home.
If you're a snorkelling fan, the Giftun Islands and Orange Bay certainly deserve a spot on your bucket list. These idyllic destinations are bound to mesmerise you.
Giftun Islands
The Giftun Islands – Giftun Kebir and Big Giftun Island – are often nicknamed the Paradise Islands, and it's not difficult to see why. These islands are home to many exotic bird and fish species, with a 3,000 square meter nature reserve and captivating blue oceans to explore. Thanks to an incredible coral reef, they're also a wonderful snorkelling destination. Swim amongst the underwater rainbow of fish, or sit back and watch the dolphins play from the sandy shores of the Giftun National Park.
Orange Bay
Orange Bay is the largest and most beautiful sandy beach on Giftun Island, with a sandy bank that slopes into the glittering sea. The water here is warm and perfect for paddling, but there are plenty of hammocks, swings and beanbags to choose from if you'd prefer to sunbathe. Wooden huts also offer plenty of shade, so you needn't worry about getting too hot. Why not swim in the gorgeous sea, or treat your taste buds to a selection of regional dishes at one of Orange Bay's independent restaurants?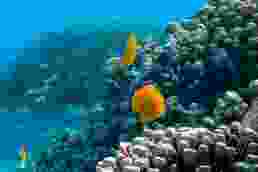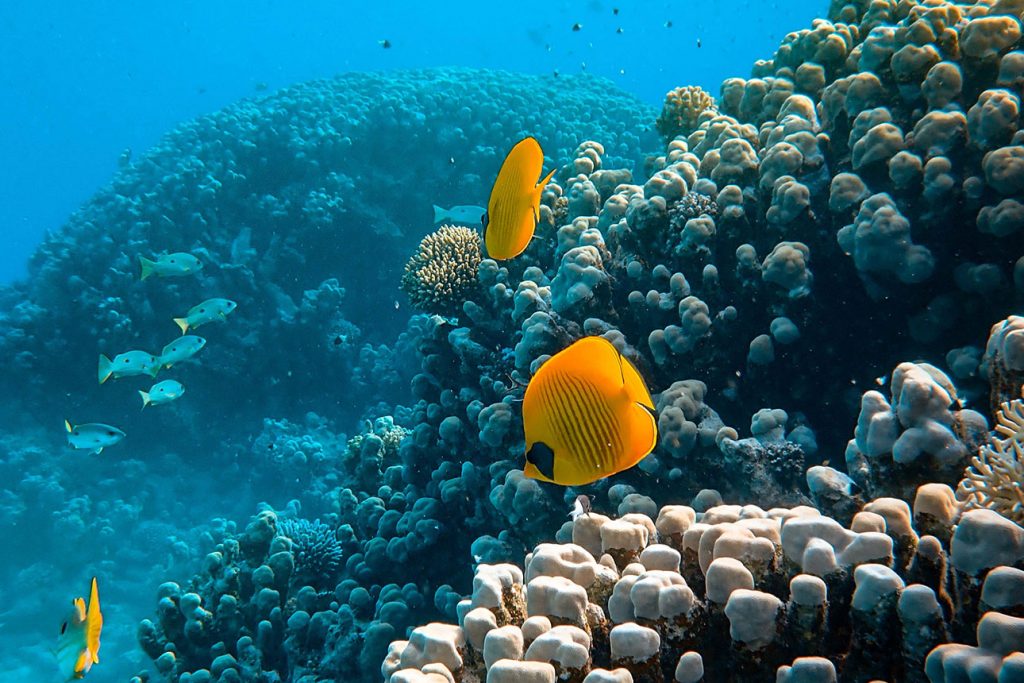 Tips for enjoying a snorkelling tour in Egypt
Take plenty of suncream with you. Apply lots of cream throughout the trip, especially to your shoulders and back.
Wear headgear, such as a hat, to protect yourself from sunstroke. Even when there's a breeze on the boat, it's important to keep your head covered.
Bring plenty of drinks. Soft drinks are included on board, but you won't have access to the boat from the islands.
Pack a second pair of swimwear. This means you can change into a dry swimming costume to avoid getting cold from the wind.
Bring a camera! Beautiful views mean you'll want to take plenty of pictures to capture your time in Egypt.
Don't touch the corals. This is important to protect the coral reefs and marine animals that live there.
Take your rubbish home. To protect the corals and beaches, we ask that you don't litter.
Do not feed the sea creatures. Keep your leftover food away from the fish!
Other attractions in Egypt