Tickets for a Gondola Ride in Venice
The Grand Canal in Venice is one of the most beautiful waterways in the world. What better way to explore the lagoon city of Venice than on a gondola ride? Experience the city from the water and admire the sights from a completely different perspective.
The most popular gondola rides in Venice
Secure tickets for a Gondola Ride in Venice now through our ticket partner GetYourGuide and benefit from many advantages:
Best prices guaranteed
Avoid long queues on site
Free cancellation up to 24h in advance
24/7 international customer service
Get tickets sent directly to your mobile phone
All gondola rides through Venice
You can secure tickets for a gondola ride in Venice in advance. There are several options for this. Whether you prefer to take a gondola ride in Venice alone or together with your friends traveling with you. Simply select the ticket that suits you best.
Unsere Empfehlung

Gondola ride along the Grand Canal with a live guide

From 29,90 €, Duration: 30 minutes

30-minute gondola ride
Live commentary in English and Italian.

Enjoy a gondola ride in Venice and get to know the city better. On the ride through the Venetian canals, you will learn about the history of the city and its sights. Among the highlights you will admire during the ride are the Teatro La Fenice and the Peggy Guggenheim Collection building. The guide's commentaries are available in English and Italian. If you wish, you can also download an audio guide in German on your smartphone.

Canale Grande gondola ride with app commentary

From 37,33 €

–25%

, Duration: 30 minutes

30-minute gondola ride
App with live commentary

On this gondola ride along the Grand Canal, you will learn lots of interesting details about Venice. You will receive the commentary via an app specially developed for this trip. There is a hotspot at the meeting point so that you can download it spontaneously. While you enjoy the view of the Grand Canal, you can listen to the commentaries from the app at your leisure. Some of the places you discover on this gondola ride through Venice can only be reached this way.

Private gondola ride

From 140 €

–10%

, Duration: 30 minutes

30- or 45-minute gondola ride
For up to 5 people

On this private gondola ride through Venice, you will admire the most famous sights along the Grand Canal. It doesn't matter if you want to enjoy the impressions alone or share this experience with your friends. You may even want to enjoy this romantic moment with a very special person. Because a romantic mood is guaranteed here!

Kombi-Ticket

Private gondola ride with prosecco

From 225 €, Duration: 30 minute–1 hour

30- or 60-minute gondola ride
For up to 4 people
Bottle of Prosecco

Explore a private gondola ride through Venice from the "Dogana" gondola station. The ride lasts 30 or 60 minutes, depending on your choice. During the ride, you will also pass by the city's most famous canal, the Grand Canal. The price also includes a bottle of Prosecco. Sit back, relax, and enjoy this Italian sparkling wine alone, with your loved one, or with friends.

Kombi-Ticket

Gondola ride through Venice
Admission to St. Mark's Basilica & Doge's Palace (No queue!)
Tour of Venice
10% cheaper than purchasing tickets individually

Would you like to combine all the highlights that Venice has to offer its many visitors in one ticket? Then you should definitely get the Venice Pass. You even pay 10% less than if you pay for the individual activities on site!

Take your time and explore the highlights of the city. Especially a gondola ride through Venice is not to be missed. Then visit all the wonderful sights of the city.
The Canals of Venice
Venice's canals are famous all over the world. You will hardly meet a person who does not immediately associate Venice with its canals. Even today, these waterways serve daily traffic.
The network of canals runs through the entire city in northern Italy. The best known of these is the Grand Canal in the city center. The countless Venetian canals meet in St Mark's Basin near St Mark's Square.
The canals play a particularly important role in tourism. Thousands of tourists take a gondola ride during their visit to experience Venice at its best.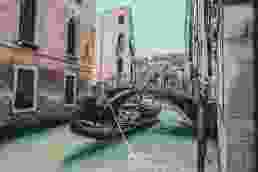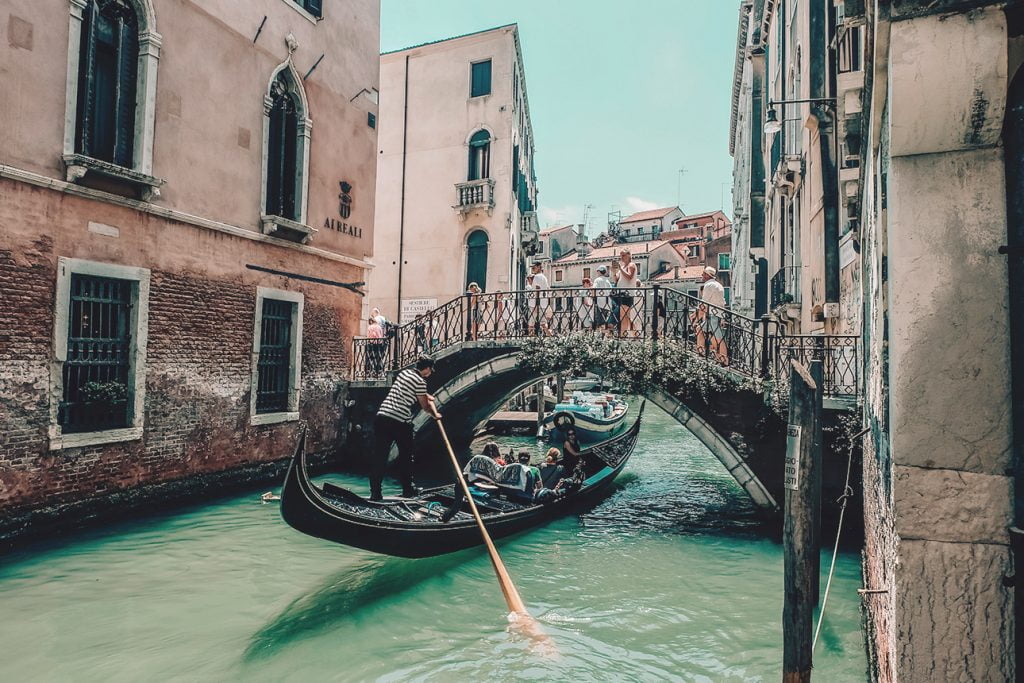 Other attractions in Venice