Tickets for the Oktoberfest in Munich
We had to do without this spectacle for a whole two years. Now, anticipation is boundless. From 16.09. - 03.10.2023 It's finally time to say "O'zapft is!" again. And our much sought-after Oktoberfest tickets guarantee you a place in one of the beer tents. You can also book an Oktoberfest tour and other highlights.
The most popular Oktoberfest tickets
Secure tickets for the Oktoberfest in Munich now through our ticket partner GetYourGuide and benefit from many advantages:
Best prices guaranteed
Avoid long queues on site
Free cancellation up to 24h in advance
24/7 international customer service
Get tickets sent directly to your mobile phone
All available tickets for the Oktoberfest at a glance
Anyone who knows Munich will certainly have heard of the Oktoberfest. No wonder! After all, it is the biggest folk festival in the whole world! Year after year, several million visitors from all over the world come to Munich to join the Wiesn, as the locals call their folk festival.
You can secure your tickets for the Oktoberfest in advance. From various vouchers for beer to a full menu with a tour. If a ticket appeals to you, don't hesitate and make your unforgettable Oktoberfest experience a reality!
Unfortunately, it is hardly possible to get into one of the festival tents spontaneously. Numerous visitors often reserve their place several years in advance. This means that you can forget about getting into the marquee without reservation! With these, you get a guaranteed entry into the marquee.
Unsere Empfehlung

Oktoberfest 2023 with tour, lunch, and drinks

from 170,00 €, duration: 7 hours

Guaranteed seat in the Hofbräu marquee
2 liters of beer and 1 roast chicken
Incl. tour with a local guide
Incl. return journey by metro

With this ticket you not only get a guaranteed seat in the Hofbräu marquee, but you also get a delicious roast chicken and 2 litres of beer on top!

The ticket also includes a tour of the Oktoberfest. Experience the Wiesn through the eyes of a local and take a ride on the Ferris wheel, included in the price!

If you book a hotel a little further away, this ticket offers you another advantage. Because you can also use it to travel once to the Theresienwiese and back to your hotel. Nothing stands in the way of the exciting Wiesn fun!

Guided tour of the Oktoberfest

from 151,60 €, duration: 4 hours

Tour of the Oktoberfest grounds with a Bavarian guide
Beer tasting in each tent

What better way to experience Oktoberfest than through the eyes of a local? That's exactly what this ticket is made for. You'll be assigned an experienced guide from Bavaria who will tell you a lot about the history of the world's largest folk festival.

Explore the Wiesn together with a small group and sample Munich's best beers!

In every festival tent, you can taste the beer traditionally brewed for Oktoberfest Munich. While doing so, listen to your guide's stories about the curious happenings that have already taken place on the Theresienwiese.

Brewery tour with beer tasting

From 41 €, Duration: 3.5 hours

Admission to the Munich Brewery
2 liters of beer
Incl. transfer and guide

Visit a Munich brewery without waiting in line. This way you will dive even deeper into the matter than any tourist does. Learn exciting info about Munich beer and what makes beer in Munich so special.

If you are already in Munich and become a beer expert, of course, a beer tasting should not be missing. Included in the ticket are two measures of beer (2 liters of beer). The perfect experience to get ready for the Oktoberfest.
The Munich Oktoberfest
Hardly any other festival is as well known as the Oktoberfest or "Wiesn" in Munich. It has been held every year on the Theresienwiese since 1810. The Oktoberfest begins in mid-September and ends on the first weekend in October.
For the city of Munich, the Oktoberfest is an important source of income. Every year, hordes of tourists from all over the world come to Munich to experience Oktoberfest with their own eyes. They leave a lot of money in the city. Year after year there are new records, be it the total number of visitors or the amount of beer drunk.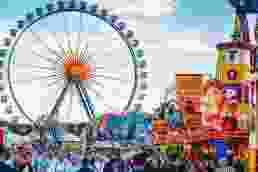 Insider tips for the Oktoberfest Munich
With so much hustle and bustle, things can easily get mixed up. To make your visit to Oktoberfest a complete success, we have a few tips for you.
At Oktoberfest, it is good manners to appear in a traditional costume outfit. Especially if you don't want to show yourself off as a tourist, you should definitely get a traditional costume outfit. For an authentic traditional costume, we recommend the Moser-Trachtenshop.
If you want a seat in the beer tent, you should definitely book one of the tickets above. Because otherwise you're guaranteed not to get a seat in the beer tent. Admission to the beer tents is blocked as soon as the tent is full.
If you're already at the Oktoberfest, we recommend visiting the "Oide Wiesn" right next door. It's not quite as busy here, and the atmosphere is great too!
The underground line U2 to "Theresienwiese" is often very crowded during the Wiesn. We, therefore, recommend that you take the S-Bahn to "Hackerbrücke". From there you simply walk along with the crowd.
For a great view of Munich and especially the Oktoberfest, we recommend a ride on the chain carousel!
For the best preparation for the Oktoberfest, we recommend the Oktoberfest playlist on Spotify. Nothing is guaranteed to get you in the party mood! Songs you should definitely be able to sing along to: "In München steht ein Hofbräuhaus", "Skandal im Sperrbezirk" and "Viva Colonia".
The beer at the Oktoberfest is brewed explicitly for this purpose and is therefore somewhat stronger. To last longer, we recommend starting with a Radler - 1 liter of beer can be a lot! But never order an Alsterwasser - no one in Munich really says that!
For the best Wiesn preparation, just watch Harry G's video. The video speaks for itself!
If you're drunk, be sure to avoid the famous "Kotzhügel" behind the Hobräu festival tent. Because right in front of the Bavaria, this is where those who have had one (or more) beers too many end up. And you really don't want to end up there!
Hotels
Especially during the Oktoberfest, hotels and holiday flats in Munich are booked out very early. In addition, the prices for short-term bookings often rise immeasurably. That's why we advise you to book your hotel near the Oktoberfest as early as possible. You can find the best hotels near the Oktoberfest right here: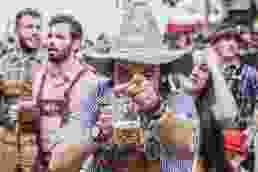 Traditional costume
If you want to go to the Oktoberfest, you should definitely buy a traditional costume. For men, this means coming in a lederhosen and a checked traditional shirt, while women attend the folk festival in dirndls.
Locally, there are numerous shops where you can buy the appropriate Trachten clothing. But why buy when the festival is already in full swing and the shops are even raising their prices? Instead, you can order your traditional costume clothes from the comfort of your couch at home.
Opening Hours and Directions
Opening Hours
Monday

10:00 - 22:30

Tuesday

10:00 - 22:30

Wednesday

10:00 - 22:30

Thursday

10:00 - 22:30

Friday

10:00 - 22:30

Saturday

10:00 - 22:30

Sunday

10:00 - 22:30
From 16.09.2023 – 03.10.2023
Directions
Arriving by public transport
The underground lines U4 and U5 will take you directly to Theresienwiese. (Stop: Theresienwiese).
Alternatively, you can take the S-Bahn to the "Hackerbrücke" stop. From there, simply follow the crowd to Theresienwiese.
Address
Theresienwiese, Munich
More beer highlights in Munich