The Most Beautiful Etna Tours & Hikes
Climb Europe's largest active volcano on a guided tour. On top of breathtaking views, you will discover fascinating craters, lava caves, and impressive landscapes. Get your ticket now and embark on your Mount Etna adventure – you can't miss out on seeing Sicily's popular natural phenomenon.
Top 3 Etna Tours
Secure tickets for an Etna Tour now through our ticket partner GetYourGuide and benefit from many advantages:
Best prices guaranteed
Avoid long queues on site
Free cancellation up to 24h in advance
24/7 international customer service
Get tickets sent directly to your mobile phone
Mount Etna Tours in Detail
Mount Etna is a popular tourist destination in Italy, attracting millions of visitors every year. With its natural wonders, such as the lava caves, an Etna tour is an incredible experience. Due to the large volume of visitors and safety precautions, hikes are only allowed in small groups. Therefore, ensure that you secure your ticket in advance. We've summarized the most popular tours on Etna for you in detail. See below!
Etna Tour & Sicilian Delicacies

From 59 €, Duration: 6 hours
Easy hike, suitable for families and the elderly

Guided Tour to Mount Etna in small groups
Guided visit to a lava cave
Taste Sicilian delicacies
Equipment and transport included

Experience an all-day tour to Mount Etna from Catania. Your hike will take you through lava fields to a 2.5km high viewpoint. There, you will get to experience impressive views and see the craters of the volcano. Another highlight is a visit to a lava cave. Throughout the tour, you will be accompanied by an experienced (English-speaking) guide who will tell you all sorts of interesting facts and stories about Mount Etna. Transport is provided to take you to the starting point of the hike in an air-conditioned vehicle. At the end of the hike, you'll be able to refuel on delicious local specialties – for example, some popular "Cantucci" biscuits.

Our advice - You'll get to enjoy an especially breathtaking view of Mount Etna if you go on the sunset tour.

Jeep tour to Etna at sunset

From 65 €, Duration: 5 hours
Jeeps provide children's car seats upon request

Guided Jeep Tour to Etna
Taste Sicilian delicacies & wine
Equipment and transport included

This sunset Jeep tour to Mt. Etna will give you a totally unique experience of the volcano. The tour begins in Catania, and will then take you to the lava fields of Mount Etna, where you can admire the volcano's impressive landscape. During this tour, you'll end up going to an altitude of 2.5km to watch the sunset over the volcano. The Jeep tour will be accompanied by an experienced (English-speaking) guide who will tell you all sorts of interesting facts and stories about the volcano. In the end, you'll get to try out various local delicacies from around this region of Italy.

Unsere Empfehlung

Venture to Mt. Etna's summit by cable car, Jeep, and hike

From 99 €, Duration: 5 hours
Easy hike - Suitable for families and the elderly

Round-trip by cable car
Guided Jeep tour & hike on Mount Etna
Equipment included 

This tour begins nice and laid back, as you take a cable car on a journey to an altitude of 2.5km, throughout which you can already expect panoramic views of Mt. Etna and the surrounding landscape. Afterward, you'll continue with a guided Jeep tour at altitudes of 2.9km, and then make the final part of your journey to the top of the volcano on foot, which takes just 90 minutes, along Mt. Etna's many craters and lava caves. Of course, there will be various photo stops and small breaks along the way. An incredible view awaits you at the summit, where your guide will tell you little anecdotes about the volcano. After this, you'll walk back to the cable car, which will take you back down.

Maximum safe altitude tour on Etna

From 50 €, Duration: 5 hours
Challenging hike - Suitable for children from 6 years. Good fitness required

Guided hike to Mount Etna
Equipment included

Led by a certified guide, this tour will allow you to explore the active volcano in a safe manner. First, the cable car will take you to an altitude of 2.5km. From there, you will take a hike up to the maximum permitted altitude, near the summit craters of Mt. Etna. Along the way, you'll be able to admire the lava flows steaming from recent eruptions, as well as the caves where the lava flows down into the southeast crater. After visiting the craters, you'll make your way back down via a sandy path (a truly snowy paradise in winter) to the cable car station.
10 interesting facts about Sicily's Mount Etna:
Etna is the largest active volcano in Europe and one of the most active volcanoes in the world.
The volcano reaches an altitude of 3329 meters above sea level – however, this can change based on volcanic activity.
Mount Etna covers an area of about 1190 square kilometers.
The first recorded eruption of the Etna dates back to 1500 BC.
Since 1600, the volcano has erupted more than 200 times; most recently in February 2022.
The volcano features more than 40 lava caves.
In recognition of its geological and cultural importance, Mount Etna has been a UNESCO World Heritage Site since 2013.
The surrounding area is home to diverse flora and fauna, including numerous endemic species.
In 2014, new plant species were discovered that grow exclusively on the slopes of the Etna. The plant was named 'Silene etnensis' in reference to its unique habitat.
The Tarocco orange is a variety of orange grown in Sicily, as well as other places in the area around Mount Etna. It is considered one of the best oranges in the world and is known for its rich taste and deep red flesh. It is believed that the volcanic soil and the unique microclimate of the region contribute to its exceptional taste and quality. Be sure to try it when you're in Sicily! ;-)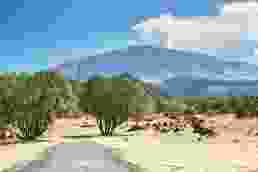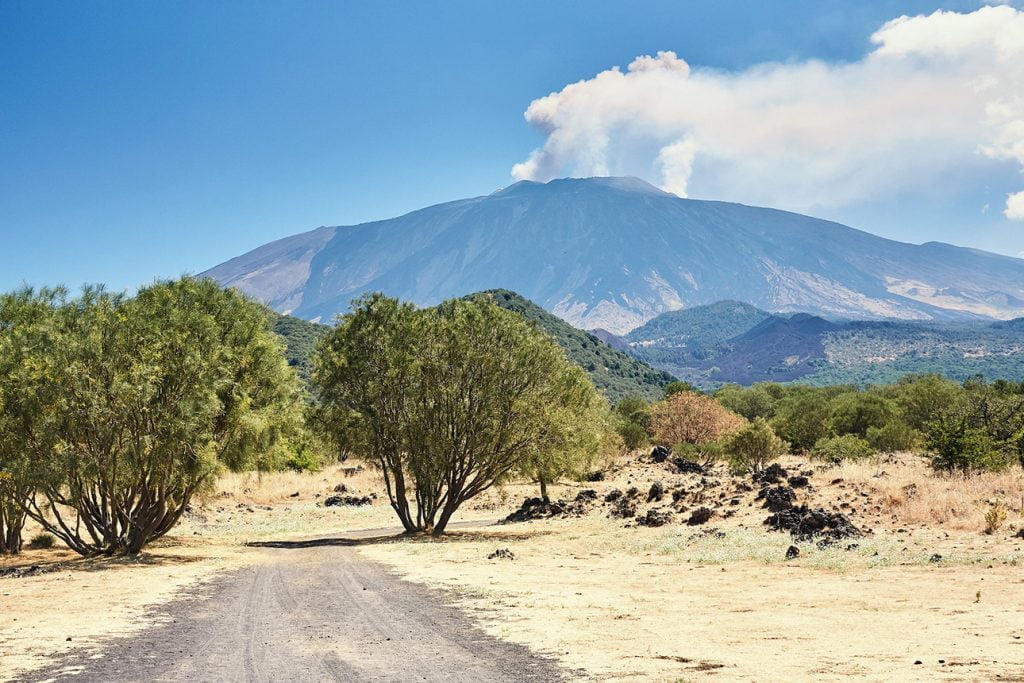 Etna - Europe's largest active volcano
Mt. Etna is an active volcano on the east coast of Sicily. It is one of the most active volcanoes in the world and has been erupting regularly for thousands of years. The volcano is about 3329 meters high, making it the highest active volcano in Europe.
Visiting Mount Etna is an incredible experience, with its stunning views and the chance to experience an active volcano up close. However, it's essential to take the necessary precautions and follow the instructions of local authorities and tour guides, as eruptions and other volcanic activity can be unpredictable and dangerous. Therefore, a hike up the volcano is only allowed as part of a guided tour.
There are several ways to visit Mt. Etna on your guided tour. These include hikes, Jeep tours, and cable car rides. You can explore various craters and lava fields of the volcano and learn more about the history and importance of the region.
More great experiences in Sicily